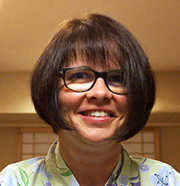 I am Caroline, creative soul and Japan lover
You always return from a journey as a different man to the one who set off – Graham Greene
Mick in Japan is the place to document and share my inspirations from the land of the rising sun.
I started traveling to Japan in 2016, after many many years of waiting for this opportunity. Needless to say that these travels have deeply impacted my life. After a break of almost 30 years, I took up my Japanese language studies again and my art is immensely inspired by the impressions which I gathered during my journey so far.
I have travelled to Japan 5 times as you can see in my travel log below and another travel is planned for September to October 2020.
Let's connect and share our love for Japan!
5 travels
58 days in Japan
10 prefectures
17 cities
CHUUBU Nagoya
CHUUGOKU Hiroshima – Kurashiki – Miyajima – Okayama – Uno
KANSAI Himeji – Kobe – Kyoto – Nara – Osaka – Yoshino
KANTOO Kamakura – Nikko – Tokyo – Yokohama
SHIKOKU Naoshima
CHUUGOKU
Hiroshima
Kurashiki
Miyajima
Okayama
Uno
KANSAI
Himeji
Kobe
Kyoto
Nara
Osaka
Yoshino
KANTOO
Kamakura
Nikko
Tokyo
Yokohama